Calcium Supplement Recommendation
Things To Consider When Choosing A Calcium Supplement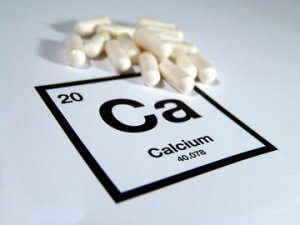 Calcium is essential for human health, affecting multiple bodily functions.[1] Yet the Surgeon General's office has estimated that as many as 80% of Americans get less than adequate amounts of calcium in their diets.[2]
While this would suggest the need for calcium supplementation – and indeed, calcium is one of the most-recommended supplements by doctors in America today – there is reason for caution. Some studies have indicated an increased risk of heart attack among users of certain types of calcium supplements.[3] Specifically, the increased risk seems to come from forms of calcium that are less-well-absorbed by the body, and that do not contain any of several supporting ingredients known to aid the body in calcium metabolism and utilization.
Choosing A Safer Form Of Calcium
Calcium is available in several different forms for human consumption:
Calcium Carbonate is the most common form. However, it's also the least well-absorbed.[4] Calcium carbonate requires stomach acid to break down, therefore it must be taken with food. Studies have shown increased risks of heart attacks and other "cardiovascular events" associated with calcium carbonate supplements,[5]most likely because the low absorption rate leaves calcium to settle in joints, arteries and to be filtered out by the kidneys (leading also to a possibly increased risk of kidney stones.)[6]
Calcium Citrate is widely considered to be a safer form of calcium, however it was specifically used in certain studies that first noted the increased risk of heart attack among supplement users.[7]
Calcium Citrate Malate (sometimes referred to as calcium citramate). This form of calcium has been found to be as much as 30% better absorbed than either carbonate or citrate.[8] A meta-review of multiple studies found this form of calcium to strengthen bones, reduce fracture risk, and actually lower the risk of kidney stones (the only form of calcium to do so.)[9] Studies have also found this form of calcium to be more effective at reducing bone loss.[10]
Therefore, the evidence seems to suggest Calcium Citrate Malate as the preferred form of calcium supplementation.
Choosing An Effective Dose
The maximum dose of elemental calcium that should be taken at one time is 500mg.[11] When evaluating calcium supplements, take care that the label lists the amount of "elemental" calcium as otherwise, the dosage listed could contain other elements bound to the calcium, which could inflate the amount of the desired nutrient the product contains.
Recommended daily intake of calcium for most adults is between 1,000mg and 1,300mg per day.[12]
Therefore, the evidence seems to suggest a dose of 500mg elemental calcium, taken twice per day.
Essential Supporting Ingredients
It appears that the safety of calcium supplementation is is greatly enhanced by the presence of several supporting nutrients that enable its proper utilization in the body. These include:
Therefore, the evidence seems to suggest including at least 600IU of Vitamin D3, 250mg of Magnesium, 60mg of Vitamin C, 125mcg of Vitamin K2, and up to 200mg of Lysine.
Product Suggestions
If you're looking for a calcium supplement that meets these suggestions, possibilities include:
 Calciology
According to the label, Calciology contains all of the above ingredients. There are some trace minerals that would also be beneficial, however those are contained in most multivitamins.
The dose is also a potential drawback for some, as the label calls for 3 capsules twice per day. However, most calcium citrate malate supplements have similar doses as it is a large compound.
Calciology is available at the following retailers:
---
These are the only products found so far, but more will be added as they are discovered. If you know of other products that should be listed here, email them to us at help@wikivites.com
---
---